Dr. Kelly Jorn Cook Provides Patient Satisfaction Through Music
Article by Seth Conaway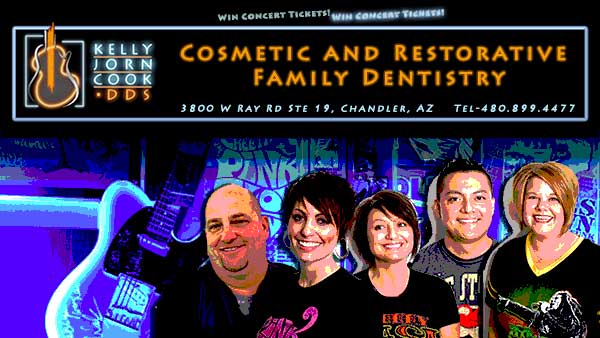 Browse a wall of signed album covers, passing the autographs of Stevie Nicks and Miles Davis and The Talking Heads. Look straight ahead and you'll find an acoustic guitar signed by the Eagles. To the left, an electric guitar signed by the Dave Matthews Band.  Along another wall are vintage video games: Asteroids, Defender, Ms. Pac-Man, The Golden Tee, and a Galaga cocktail table. No out-of-date copies of fashion magazines here. No generic elevator music, either. Pink Floyd eases out of the overhead speakers while you flip through a copy of "Rolling Stone".
Welcome to the dental office of "The Doc That Rocks".
"For some people, coming to the dentist is a cake walk," says Kelly Jorn Cook, DDS. "But not everyone is like that. I wanted to create a space that would take people's minds off why they're here."
After several years of working in a more "conventional" office setting, Cook found himself feeling constrained and unhappy. Like other medical professions, dentistry comes with what he calls a "high burnout rate". Compelled to make a change, he got to work brainstorming on how to make his office a place that he would enjoy coming to, both as doctor and patient.
A lifelong music lover and memorabilia collector, Cook had amassed an impressive collection over the years. Providing outstanding care to patients while listening to his favorite bands was part of the solution he'd been looking for.
"I knew that to do my best work I'd need to surround myself with what I like," Cook says, and soon his "rock and roll museum meets the dental office" was born.
"The fact that I'm happy transfers to the patients," Cook explains. "Everyone is happy, the staff is happy, and the mood is good. I've liked work more the past 14 years than I did the first 10. I've worked hard to make sure this place is pain free and communication relevant. If you've got a problem, convey that to me. The dentist doesn't have to be a scary place, and I take great satisfaction in talking people down from the ledge."
Cook provides advanced cosmetic and complete restoration dentistry as well as general dental services for the whole family. Patient testimonials range from the ecstatic to the deeply grateful. His staff, personality and unique approach to patient comfort get high marks as well. Cook refers to his staff as "The Band" and hands out printed guitar picks rather than business cards. He's personable and laid back, comfortable in his own skin and loves connecting with his patients through whatever song happens to be playing.
"Music is timeless and so it takes them back," says Cook. "I have patients who tell me they saw Jimi Hendrix at Winterfest or Janis Joplin at the Fillmore, but they haven't listened to them in years. Why let it go? I can't imagine life without music."
For Cook, life began in Kansas where his father owned a handful of Goodyear tire stores. As the family lived on the port of entry along the Colorado-Kansas-Nebraska borders, his father would sometimes be called out in the middle of the night to fix a flat.
"Even at two in the morning in the middle of winter, he'd get a call and wake me up and we'd go," Cook remembers. "That's one of the things I love most about living here. You don't have to shovel the sun."
Having inherited his father's work ethic, it's clear why Cook has been so successful in creating patient satisfaction. Through patience, technical expertise, personal expression, a sense of humor and a love of music, he's created the unthinkable: a dental visit you will most likely look forward to.
"You don't have to be fearful," Cook offers. "Come on in. Give Led Zeppelin a chance."
Kelly Jon Cook's office is located at 3800 W. Ray Road, Suite 19, in Chandler. For office hours and other information, visit his website at kellyjorncook.com or call  (480) 899-4477.