Albuquerque dentist's secret to success brings dental care to patients who once avoided the dentist and expands his practice. 
Albuquerque, NM – July 9, 2014  Albuquerque dentist, Dr. Pako Major, business owner and resident of Albuquerque, is announcing the acquisition of his second dental practice, Alegre Dental at the Bosque.  Both of Dr. Major's offices will offer comprehensive family dentistry. Our success in the community comes from our values in caring for people and providing superior service.
Alegre Dental has one of the most experienced Dental Implant teams in New Mexico. Dr. Major and Dr. Robertson are leaders in both Dental Implantology and Cosmetic Dentistry.  With Dr. Jared Robertson also of Albuquerque, leading the new location, Alegre Dental at the Bosque will provide its clients with superb service and care.
Advanced training, skills, and technology allow Alegre Dental to provide some of the best dental service in the area. With 3-D dental imaging, they are able to create digital replicas of your jawbone. Using this digital image, the Alegre team can place implants with more accuracy and safety than ever before.  Even people who were once told that they were not candidates for dental implants due to insufficient bone mass are now able to enjoy the benefits of Alegre's advanced technology.  Alegre offers several dental implant procedures/technologies including: Teeth in a Day, All on 4, All on Six, and mini implant retained dentures.
"As a part of the Albuquerque community since 2011, I am so proud and honored to continue to serve this beautiful city by opening an additional location. At Alegre Dental we pride ourselves on offering state of the art facilities, superb customer service and a conservative approach to dentistry that fosters long-term relationships through trust and compassion."
Both of Alegre Dental's offices offer impeccable service and state of the art facilities to keep your comfort in mind. We provide patients access to both Netflix and Pandora while they are in the dental chair and we also serve coffee and have a children's section for you and your family in the lobby. Alegre Dental strives to provide a relaxing atmosphere because not everyone loves the dentist and patients lead busy lives!
Dr. Major was born in Poland, and his family moved to America when he was in elementary school. He was an honor student at the University of Wisconsin and obtained his DDS degree at Marquette University, where he received academic scholarships and represented his school in the state dental association. In addition to being committed to constantly learning new techniques in dentistry, Dr. Major is a proud member of the American Dental Association, the New Mexico Dental Association, and the Albuquerque Dental Association. He has also published research on sleep apnea.
Dr. Robertson graduated cum laude from the University of Utah with a degree in Behavioral Science. He then went on to complete his Doctor of Dental Surgery degree at Marquette University, also graduating cum laude.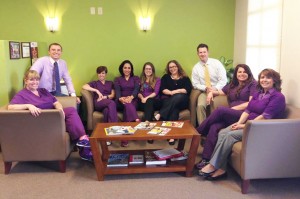 For more information Alegre Dental, Dr. Major, or Dr. Robertson please
visit: http://www.alegredentalnm.com or
visit our Facebook page at:
https://www.facebook.com/AlegreDental
Press Contact:
Laura Maly
262-844-1628
laura.maly@wonderistagency.com
Office Locations:
Alegre Dental at Petroglyphs
2116 Vista Oeste Nw, Ste. 202
Albuquerque, NM 87120
505-836-1076
Alegre Dental at Bosque
9384 Valley View Drive Ste. 200
Albuquerque, NM 87114
505-332-9198