A Wilmington dentist brings oral health care to the Vietnamese through Operation Smile.  Photographs of smiling Vietnamese children line D. Michael Gioffre's office's walls at 1702 Lovering Avenue, Wilmington, DE.
The children are smiling because of him. Since 1997, Gioffre has educated the people of Vietnam about oral hygiene, taught the Vietnamese dentists modern dental techniques, and provided dental care to as many patients as possible. He travels to Vietnam with boxes of toothbrushes and toothpaste and a team of 13 to 26 volunteer dentists from all over the United States. Gioffre puts smiles on hundreds of faces.
As a dental student at the Baltimore College of Dental Surgery, part of the University of Maryland, Gioffre became friends with a classmate, Billy Magee. Magee is the son of the co-founders of Operation Smile -a non-profit organization that provides reconstructive surgery and related health care to indigent children in developing countries and the United States. Many children in emerging countries are born with cleft lips sends groups of doctors to operate on the children and fix their smiles. In Operation Smile's name, Magee started the dental mission that brought American dentists to Vietnam, a country in desperate need of improved dental care. Gioffre joined Magee on the second annual dental mission in 1997 and took over the next year. He has been running the mission ever since. Having made five visits in the past five years, Gioffre has begun to see his progress.
In a communist country where the average family makes $300 a year, the people of Vietnam lack adequate oral health care. Many Vietnamese work in the fields and chew sugar cane all day. Others suck on candies as they become more westernized. Since the water is not fluoridated and the people don't brush twice a day -many have never seen a toothbrush before -they are much more susceptible to cavities.  The Vietnamese dentists also have a different philosophy about providing care, Gioffre says. With 5,000 patients per dentist and limited resources, anesthesia is not commonly used. "They drill without pain relief," he says. Dentists also use silver filling because it is less expensive, but it is made mostly of mercury. Disposable plastic gloves are washed and hung to dry, not thrown away. And needles are also reused.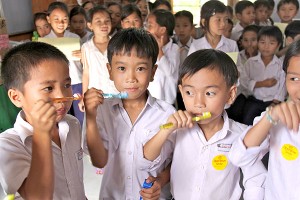 The first time Gioffre went to Vietnam, he tried to treat as many patients as possible in the two weeks he was there, "I realized I took a nibble out of a huge mountain," Gioffre, 30, says. After seeing patients, he realized he couldn't save the older adults' teeth, which had a lifetime of decay. Still, he could prevent the children from suffering future dental problems by giving them a toothbrush and toothpaste and teaching them how to brush. "The more lasting effect is to teach the importance of brushing twice a day," Gioffre says. "And to teach dentists why it's important to save a baby's teeth instead of pulling." What began as a mission to treat patients soon became a massive education campaign.
Dr. Gioffre provides family and pediatric dentistry in his Wilmington, DE practice. He says,
Our patient's health, comfort, and smile are our primary concerns. Our office provides a full line of dental services, from preventative care visits and restorative procedures to cosmetic and surgical services. We are sensitive to the emotional and physical needs of our patients and fellow team members. Our highly trained staff has been carefully selected to meet your needs and is committed to providing the finest in family dental care in a very relaxed, enjoyable atmosphere. Our most valued reward is the long-term personal relationship that we have developed due to mutual respect and trust with our patients.
First State Dental
1702 Lovering Ave
Wilmington, DE  19806