Wilmington dentist, D. Michael Gioffre Jr., DDS makes a difference in the lives of children who suffer from cleft palette congenital disabilities.  Dr. Gioffre of First State Dental, Wilmington, DE volunteers in the community and global outreach programs where he uses his dental skills to help change young lives.
Operation Smile Dominican Republic is a nonprofit foundation dedicated to performing reconstructive surgeries for cleft lip and palate in poor children and providing dental treatment, psychological and speech therapy. All these thanks to the support offered by our volunteers and sponsors.
Your dedication and commitment have ensured our volunteer medical services' continuing success to provide new lives for the beautiful children of Ia Republica Dominicana. Our deep and sincere appreciation for helping us create miracles for so many children, families, and communities, in la Republica Dominicana and around the world.
. . We have within our grasp the ability to change t e future of a disfigured child, and by doing so, demonstrate that involvement creates change. Republica Dominicana, February 2012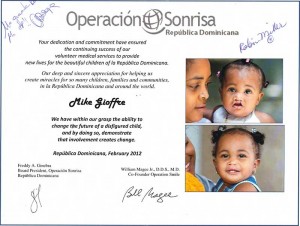 Send a smile to a child requires the support and collaboration of many people. Throughout the year, we need people to help with patients' transfer, medical appointments, tests, and therapies, key elements in helping these children smile.
If you want to help, please contact: Paul Martinez Efres CEO OSRD Foundation Operation Smile Dominican Republic Av San Martin No. 268 Santo Domingo, Dominican Republic Phone (809) 540-5913